Europa League Final – Ajax vs Man Utd
Analysis of Ajax vs Manchester United
Briefing of the match
Ajax will play white/red kit
Man Utd will play in blue kit
Chart at the start of play: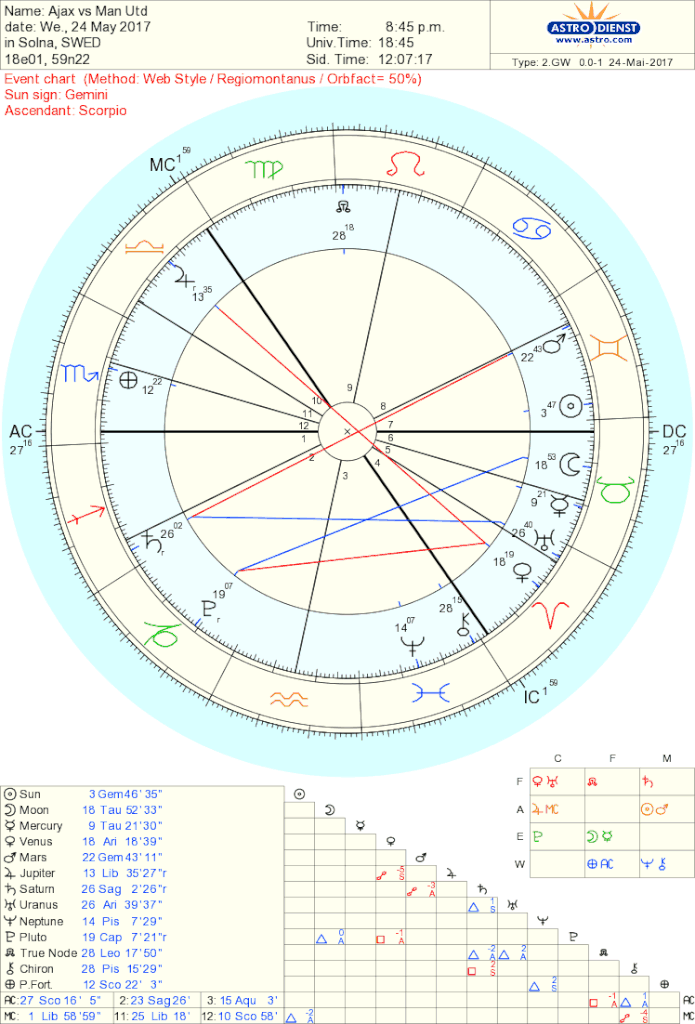 What happened?
ASC starts in Scorpio, but near the end! Mars in 7th, Venus in 4th, so equal first few minutes.
When the ASC changes to Sagittarius, Jupiter is in 10th house and Mercury in 5th house. Jupiter is stronger. Mercury moves through 5th house and Jupiter through 10th to 9th, so it is likely to be a close match. Neutral location.
Moon next aspect is to Pluto (L1), so I am inclined to suggest that the advantage is with Man Utd. Why Man Utd? Because they are the darker coloured team (wearing navy blue) and this fits the Pluto/Cap colour scheme. It was also fitting of the atrocity in Manchester to select Pluto as they were the grieving club. An emotional night.
What was the outcome?
As seen here: Ajax vs Man Utd – BBC Sport Report
Ajax 0-2 Man Utd
Manchester United claimed their second major trophy of the season and secured Champions League football as they overcame Ajax to win the Europa League final in Stockholm.

On an emotional night following the attack which killed 22 people at Ariana Grande's concert at the Manchester Arena on Monday, United's fans were allowed a measure of celebration as Jose Mourinho's side won in comfort.

Paul Pogba's deflected shot put them ahead in the 18th minute and Henrikh Mkhitaryan's sixth Europa League goal of the campaign, flicked in from Chris Smalling's header at a corner, confirmed they would add to the EFL Cup won against Southampton earlier this season.

Wayne Rooney made a brief appearance as a substitute with a minute left and the game won, being handed the captain's armband by Antonio Valencia on what could well be his farewell appearance for United.

And as the final whistle sounded and United's celebrations began, chants of "Manchester" rang around the Friends Arena in tribute to those who died and were injured in the attack which cast a shadow over this showpiece occasion.