2017 Fifa Confederations Cup Group Predictions – Group A
2017 Fifa Confederations Cup Group Predictions – Group A
Hello fellow readers.

The 2017 Fifa Confederations Cup is back and with 8 fiercely competitive teams here. So, I thought I would give this tournament ago, and start predicting the matches.
The technique used here is to take the event chart of when the first match is played and then progress the position of the Moon to see what aspects it makes, and as a consequence, which teams get the advantage. This method I found on Joao Medeiros' blog. Link here.
View Group B Predictions –> Group B
The Event Chart of Russia vs New Zealand: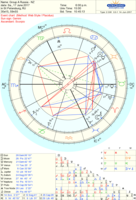 Group A:
Group A contains the following teams:
Russia
New Zealand
Portugal
Mexico
Here are the fixtures across the group stage in Group A:
Russia vs New Zealand
Portugal vs Mexico
Russia vs Portugal
Mexico vs New Zealand
Mexico vs Russia
New Zealand vs Portugal
Astrology Analysis:
Judging by the bookies I will assign the teams to the following Angles:
MC -> Portugal -> Mercury in Gemini in 8th
ASC -> Russia -> Mars in Cancer in 8th
DSC -> Mexico -> Venus in Taurus in 6th
IC -> New Zealand -> Jupiter in Libra in 11th
So now, we progress the chart. for each match, we move the Moon 5 degrees and see what aspects are made.
Round 1
Moon starts off VOC, which suggests expected results (Russia to win/draw and Portugal to win/draw)

Round 2
Moon moves to 3 degrees Aries, which will start to aspect Mars in Cancer (Russia), Portugal play Russia would could mean positive result for Russia.

Round 3
Moon moves to 8 degrees Aries, which is still squaring Mars, so Russia to win the group? The Moon also squares the antiscion of Mercury on the final day, so this could mean a positive result for Portugal too.

So, judging by these results;
Russia to win the group (3 wins)
Portugal to finish 2nd. (1 defeat and 2 wins)
Mexico to finish 3rd.
New Zealand to finish 4th with 3 defeats.